The Clermont County Board of Developmental Disabilities (CCDD) celebrated the Class of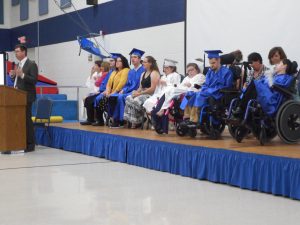 2018 at the Thomas A. Wildey School Commencement Ceremony on May 24.  Those honored were:  Madison Cooper, Molly Cooper, Andrew Johnson, and Catherine May of Milford Exempted Village School; Jacob Friedman of West Clermont Locals Schools; Joshua Fox of Batavia Local Schools; and Brandon Gray of Williamsburg Local Schools.
CCDD Superintendent Dan Ottke welcomed the audience and introduced special guests that included former Superintendent Donald A. Collins, who is also a member of the Clermont DD Empowers Me Board, and members of the current CCDD Board:  Kim Pellington, Emily Chesnut, Michael Chapman, Mary Jane West, and David Thamann.  Staff from the Wildey School also attended, as well as family members and friends of the students.
"These young adults are headed for bright new futures," said Ottke.  "We will miss them and their families, who have been very active in our school program over the years."
This year's ceremony was dedicated to Thomas A. Wildey, III, who passed away in August, 2017.  Wildey was a CCDD Board member for 12 years and was the son of Thomas A. Wildey, Jr., of whom the Wildey School is named.  Wildey and his family have been present at most graduation ceremonies over the years and, in his honor, an empty chair was left for him during this year's ceremony.
"It was a shock to us all when Mr. Wildey passed away last year," said Principal Jay Williams.  "We reserved a seat for him tonight, and we know he is with us in spirit."
Several members of Wildey's family were in attendance at this year's ceremony.  In keeping with tradition, they plan to attend future commencements.
Catherine May received the Donald A. Collins Achievement Award. May received this achievement for always following her class schedules, making mature choices throughout the years, and expressing great leadership whenever necessary.  Mr. Collins presents this award each year to a student who has made a lasting impressing on the Wildey School.
Carla Tobergte, a representative of the Clermont County Special Education Association, presented special gifts to each graduate on behalf of the members of the Association.
Certificates of attendance were presented by Superintendent Ottke, as well as Todd Wells of Milford Schools, and representatives from West Clermont Schools.
Guests enjoyed a reception immediately following the ceremony.  To view pictures or video from the night, visit clermontdd.org.