The Clermont County Board of Developmental Disabilities (CCDD) celebrated the Class of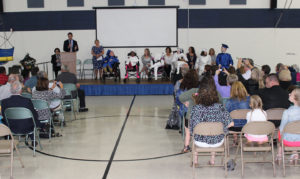 2017 at the Thomas A. Wildey School Graduation Ceremony on May 25.  Those graduating were:  Emilie Bishop, Ronnika Caseltine, and Brandon Stiles of Bethel-Tate Local Schools; Kevin House, Caitlyn Kidd, and Alexandra Schumacher of West Clermont Local Schools.
CCDD Superintendent Dan Ottke welcomed the audience and introduced special guests that included former Superintendent Donald A. Collins, who is also a member of the Clermont DD Empowers Me Board, and members of the current CCDD Board:  Greg Carson, President; Kim Pellington, Vice President; Harry Snyder, and Emily Chesnut. Staff from the Wildey School also attended, as well as family members and friends of the graduates.
Many former teachers and faculty members were in the audience to support the graduating students.  Former Board member Thomas A. Wildey III and his family attend this event each year.  The school was named for Wildey's father, Thomas A. Wildey Jr., who was a Board member in the 1980s and 90s.  The Wildey Family has graciously supported CCDD and people with disabilities since Tom Jr. became affiliated with the organization.
"Graduation is one of my favorite events of the year," said Ottke.  "It is always great to see so many people who attend to honor the graduates for the accomplishments they have made throughout their school years."
During his opening speech, Ottke gave a bit of background information about each student, and explained where each is headed after graduation.
Emily Bishop of Tate Township has been affiliated with CCDD since age three.  She was a member of the Wildey basketball team and participated in many Special Olympics events.  Bishop now attends Camp Allyn in Batavia Township, which is a program operated by Stepping Stones, Inc.
Ronnika Caseltine resides with her family in Bethel.  She began attending the Wildey School at age 12; previously, she attended classes in Williamsburg, Felicity, and New Richmond School Districts.  She plans to stay home and enjoy spending time with her family that includes four brothers, one sister, and lots of nieces and nephews.
Kevin House of Union Township has attended the Wildey School for two years.  During that time, he has become a hard worker.  He served as the main office assistant for the school, running errands and delivering packages for not only the school, but administrative offices, and the adult services program.  House was crowned Prince at the Thomas A. Wildey School PTO Prom on May 6.  Although he is keeping his options open after graduation, he will continue to be a volunteer at the Cincinnati Nature Center.
Caitlin Kidd resides with her mother in Union Township.  She attended the Wildey School for most of her school career and will be attending Angels 4 Life, LLC in the future.  When not at her new day program, she will spend time with her sisters, Sara and Isabella.
Alexandra Schumacher of Batavia Township has been affiliated with CCDD since she was three months old when she began receiving Early Intervention Services.  She then attended Holly Hill Pre-School before returning to Wildey at age 5.  She has enjoyed the time she spent with teachers and friends, and was proud to be crowned Prom Queen this spring.  She will now move on to Angels 4 Life, LLC.
Brandon Stiles of Tate Township has attended the Wildey School since pre-school.  He enjoys spending time with his family, especially his brother and sister.  He had a great year, adding Prom King to his list of accomplishments during his last year in high school.  He has not made a decision about any additional programs after graduation, but plans to enjoy the summer with his family and friends.
During the ceremony, House was awarded the Donald A. Collins Achievement Award for overcoming adversity, making mature choices throughout the years, and expressing great leadership whenever necessary.  Mr. Collins presents this award each year to a student who has made a lasting impressing on the Wildey School.
Diplomas were presented by Superintendent Ottke, as well as Chuck Boothby, West Clermont Supervisor of Special Education Services, and Kim Meguire, Student Services Director at Bethel Tate.
Guests enjoyed a reception immediately following the ceremony.  To view pictures or video from the night, visit clermontdd.org.
###