The Clermont County Business Advisory Council (BAC) is made up of people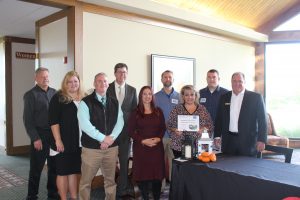 from the business community. The group is committed to enhancing the workforce of Clermont County by sharing their expertise and knowledge in an advisory capacity.
Mission
The BAC's mission is to assist and advise Clermont County job-seeking personnel on the hiring practices of businesses and what employers want within their businesses, and to instruct them on how to best prepare potential employees in order to obtain and secure employment. An important aspect of the BAC is to work within the community to provide education pertaining to disability awareness.
The Council meets at least four times per year.  They join with the Clermont Chamber of Commerce to present an "Employer of the Year" award in October to help celebrate National Disability Employment Awareness Month.  Current Members are:
Scott Brown, Clermont DD (Chair)
Pam Brown, Kroger
Michelle Dool, Opportunities for Ohioans with Disabilities
Zach Schmidt, Round Bottom Recycling
Lisa Walsh, Deimling-Jeliho, Inc.
Roger Moning, Clermont DD
Greg Wood, Clermont DD
Dan Ottke, Clermont DD
Lisa Davis, Clermont DD