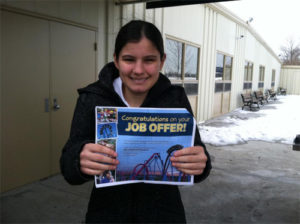 Pre-Employment Transition Services is a partnership between the Ohio Department of Developmental Disabilities and Vocational Rehabilitation. Its purpose is to serve students with disabilities offering five key components in preparation toward meaningful vocational outcomes. Those services are: Job Exploration/Counseling, Work Based Learning, Counseling on Post Secondary, Work Readiness Training, Instruction on Self Advocacy.
The mission is to enhance students'  vocational knowledge and skills, better enabling them to become productive and as work-ready as possible upon graduation.
Transition Summer Work Youth programs include working at businesses such as: Clermont County YMCA, Coney Island, Big Lots, Tractor Supply Company, Grants Farm, UC Clermont. These of course are paid work experiences.
Our summer Career Exploration Program focuses on soft skills for students who are new to learning about vocational expectations and responsibilities. Soft skills instruction includes: the importance of a good firm handshake and eye contact, resume preparation, interviewing do's and don'ts, attitude, work behavior, job shadowing, etc.