Lori Watkins, Mental Health Services Manager
2040 US Highway 50
Batavia, OH 45103
(513) 732-5033
lwatkins@clermontdd.org


In 2014 the Clermont County Board of DD took steps towards becoming a certified Mental Health provider in Clermont County.  With growing demand to support individuals with Developmental Disabilities and Co-Occurring Mental Health concerns, these services will help meet that demand in Clermont County.  The goal is that by offering these services, there will be fewer individuals finding themselves in high risk situations that jeopardize their health and safety.
We are one of the first of 88 counties in Ohio to provide mental health services to individuals eligible for our DD services.
Services Offered                                           Click here for the Referral Form.
Mental Health Assessment
Psychiatric Evaluation
Individual Therapy
Behavioral Health Counseling
Pharmacologic Management
Who is Eligible?
Anyone who is eligible for services provided by the Clermont County Board of Developmental Disabilities, has Medicaid, and is in need of mental health services.
Mental health services are provided by licensed social workers and a board approved psychiatrist. The counselors are located at our Wildey Center.
Meet the Staff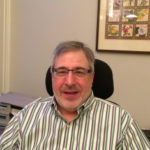 Neil Dubin, M.D.
Contracting  Psychiatrist
(513) 721-1737
Dr. Dubin has extensive experience working with individuals with co-occurring mental illness and intellectual disabilities.

Holly Knabb, MSW, LISW-S
Contracting Independent
Social Worker
(513) 732-5027
Holly is Social Worker with Supervisory Designation. Holly's clinical experience varies greatly working with military service members, working in the jail, and/or working with individuals with co-occurring mental illness and substance abuse. Holly currently functions as the clinical supervisor for the Mental Health Support and Services program.

Our counselors are dedicated to incorporating the Sanctuary Model, a trauma informed culture, into therapy and counseling.