To learn about our Supported Employment, please visit our Community Employment Page.
Program Overview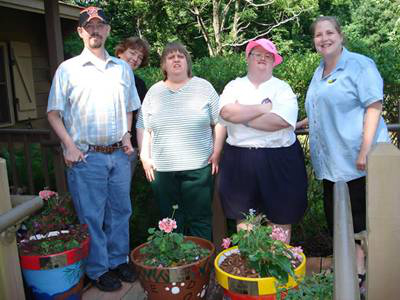 Clermont County Board of Developmental Disabilities Adult Services offers paid work opportunities to individuals at the Donald A. Collins Center.   Adult Services continues to operate a number of enclave opportunities in the community. These enclaves offer individuals the chance to work in businesses throughout Clermont County doing light assembly, document preparation, hotel cleaning, and lawn maintenance and landscaping.  Other program offerings include community integration, volunteerism, and life skills/life enrichment activities for those individuals for whom working is a more long term goal, or have decided that they are at the point in their life where work is less a priority.
Community Employment Services provides a variety of opportunities which include; job seeking, teaching interview skills (mock interviews), developing/writing resumes, job coaching, and follow along services.  This program currently supports over 200 people located throughout the community in different business locations.  Community Employment also partners with other local entities in supporting people with disabilities find work.  These include partnerships with Opportunities for Ohioans with Disabilities, and local school districts (assisting transition students).  Pre-Employment Transition Services is offered to students who are 14-22 to provide opportunities to practice work skills and gain real employment experiences that they can use to get a job in the future.