Clermont County Board of DD will be entering the third year of implementing the Sanctuary Model of Trauma Informed Care in 2016.
What is the Sanctuary Model?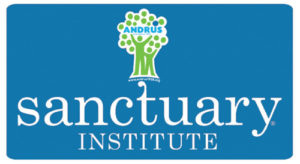 The Sanctuary Model promotes change in an organization and addresses the ways in which chronic stress, adversity, and trauma influence individual behavior as well as recognizes the ways in which whole organizations can be influenced by chronic stress, adversity, and trauma.
Sanctuary is a treatment and organizational change model that integrates trauma theory with the creation of therapeutic communities which then provides safety for individuals we work with and the staff who work with them.
The philosophical structure of the Sanctuary Model is reflected in seven commitments. These commitments apply to the entire community, staff, administration, families, students and adults we serve.
The Sanctuary commitments are:
Nonviolence – being safe outside (physically), inside (emotionally), with others (social) and to do the right thing (moral).
Emotional Intelligence – managing our feelings that we don't hurt ourselves or others.
Social Learning – respecting and sharing the ideas of our teams.
Open Communication – saying what we mean and not being mean we say it.
Social Responsibility – together we accomplish more; everyone makes a contribution to the organizational culture.
Democracy – shared decision making.
Growth and Change – creating hope for those we serve and ourselves.
Sanctuary gives us a shared language and framework for communicating with everyone in the community.
S.E.L.F. stands for Safety, Emotions, Loss & Future
By focusing on four very simple components, the S.E.L.F. frames our conversations and allows us to touch on the very complicated issues our community (families, students, individuals, staff) faces using a very simple framework.
The Process
Implementation of Sanctuary is a three-year process; it is our goal to obtain certification in March, 2017. There are four elements that make up the basic three-year implementation process:
Evaluation – formal diagnostic and certification evaluations and informal self- evaluations.
Training – staff training, orientation, boosters for staff and psycho-education for families and individuals.
Planning – core team meetings, execution of tasks that reinforce the seven commitments.
Practice – use of the tools and concepts in the community.
The Certification
The certification standards were developed by the Sanctuary Institute with Dr. Sandra Bloom as a way of measuring adherences and fidelity to the practices and
philosophies of the Sanctuary Model. Achieving certification is contingent upon satisfactory implementation of the model. Evaluation of the model is organized along the four pillars of Sanctuary: Trauma Theory, the S.E.L.F. framework, the Seven Commitments and the Sanctuary Toolbox.