Helen Keller once said, "The best and most beautiful things in the world cannot be seen or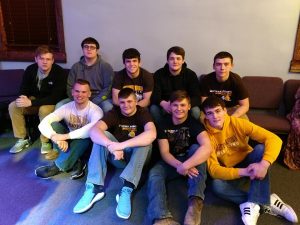 even touched; they must be felt within the heart." Truer words were never spoken for nine young men from the Western Brown Wrestling team.
These high school students took time from their busy schedules on Feb. 13 to make a difference in their community by volunteering at a Valentines Dance for the Clermont County Board of Developmental Disabilities (CCDD).
Sponsored by Faith Chapel Ministries in Bethel and attended by more than 200 people who have developmental disabilities, the wrestlers helped with set up and clean up. They also danced with individuals, assisted them with refreshments, and shared lots of smiles with everyone they met.
"It was great to see the young men interact with those at the dance," said Angie Stanton, CCDD Activity Coordinator. "All of the ladies wanted to dance with them, and all of the guys wanted to be just like them."
Each year, Faith Chapel Ministries hosts a Valentines Dance for CCDD. Volunteers from the church's many groups always are in attendance, but members of the Western Brown Wrestling Team went above and beyond to make this year's event a night to remember.
"We hope they will be able to attend next year," said Stanton. "When you hear bad things about teenagers in the news, it's nice to have the chance to meet some that are not afraid to give back to their community."
Pictured (top, from left) Seth Jermer, Derek Rymer, Eric Altman, Austin Terrell, Kennedy Sizemore; (bottom, from left) Aaron Fischer, Gary Powell, Jacob Bowling, and Dylan Mosher.