Fix the List…In Case You Missed It
If you missed the "Fix the List Seminar on July 10, please click below to view the video that is also archived on our Facebook account.  The handout from the session is available below the link.
Please remember to go to www.fixthelist.info for more information about the Waiting List Rule change in the State of Ohio.
Handout from Fix the List Seminar
New Site for Direct Support Professionals
If you are interested in becoming a Direct Support Professional or would like more information for your current job, visit DSPOhio.org.  You will find lots of resources and info designed just for you.
What is a DSP?  Go to the DSP page on this website to find more information.
If you were unable to attend the recent training, "Complying with Employment Record Requirements for DD Provider Agencies," the PowerPoint presentation is available HERE.

Join us for a PODCAST!
Clermont DD is now podcasting!  Please click the link below to enjoy June's podcast that features Rocky Arnett and Rachel Perlstein.  Tune in for more exciting programs this summer!
It's LIP SYNC BATTLE time once again!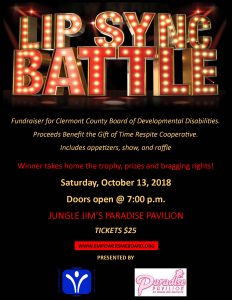 Are you interested in attending this year's Lip Sync Battle?  Want to be a sponsor?  Have a team that just can't WAIT to perform?  Please click the flier above to learn more about the event, or go to CLICK IN THE FOOTER BELOW to register!



THREE'S CHARM
Jana Beal, Park National Bank/Jen Patrick, HealthSource of Ohio/Monika Royal-Fischer, UC Clermont/Diana Williams, Kao Corporation
Bubble, Bubble, Toil, & Trouble
Tami Ackermann, First Financial Bank/Don Bock, World Class Ping-Pong Player/Jeff Lykins, Lykins Energy Solutions/Bob Pautke, SOAR with Purpose
THE K-NICKIES and the LOST IDs
Kristine West-Kahl/Nick Stacy of People's Bank/Allie Hanselman (Coach)
People's Bank
THE TRAVELING GOODWILLBURYS
Representatives from Ohio Valley Goodwill Industries including Paula Smith, Ann Mackzum, and Mary Wellen.
Broadway Babes
Michaela Vogel & Christa Vogel